ABSG瑞腾国际体育科技集团与GamePlanU共同宣布中国及全球的全方位合作
04/01/2021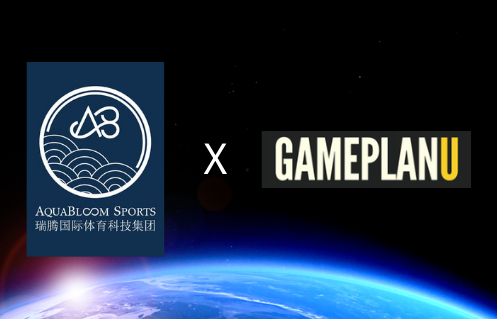 ABSG瑞腾国际体育科技集团与世界顶尖的体育科创平台与投融资服务中心GamePlanU共同宣布全方位合作,以促进全球体育产业的协作和整合。
AquaBloom International Sports Technology Group (ABSG) and GamePlanU, a leading hub for sports startups, career seekers & investors, announced has formed all-round partnership to promote collaboration and integration of the global sports industry.



位于美国佛罗里达的GamePlanU致力于为发展中期的体育科技和改变生活方式的初创团队及创业领航者提供顾问、指导及资助。GamePlanU以连接创始人、执行管理、求职人才及投资方为己任。针对创始者,他们发起SportsTech(体育科技论坛),为初创团队打造与世界联络协作的共同体。针对求职人才,他们利用远程平台渲染产业氛围,开设在线学习交互课程,打造全球产业网,挖掘职业潜力。针对投资方,他们则铺设与产业高级管理人员、投资顾问和导师对接的关系网,这就是GamePlanU如何作为"体育科技行业变革者"为初创企业融入全球体育科技共同体搭桥铺路的初衷。
GamePlanU based in Florida, U.S. provides early to mid-stage sports technology and lifestyle startups and start-overs founders with mentoring, advisors and investors. The mission of GamePlanU is to connect founders, executives, career seekers and investors. In terms of founders, they deliver SportsTech, startups with a global community to connect, network and collaborate. Concerning career seekers, they deliver remote industry immersion, online learning, global networking, and career discovery. As for investors, they deliver a network of senior level industry executives, advisors and investor mentors. This is how GamePlanU connects startups to the global SportsTech Community as the SportsTech Game Changers.

ABSG瑞腾国际体育科技集团,创始人及其团队拥有近20年北美、中国及亚洲体育产业的成功经验,通过整合科技、资本、市场、人才、政府、学术、传媒、IP和战略伙伴联盟等方面的独特优势和资源,打造中国和全球顶尖的体育创新生态体系、全方位服务平台以及大影响力项目。最终实现"让体育科创融合世界"的愿景。
With more than 20 years of successful track-records in the sports and sports innovation industry in North America, China, and Asia, ABSG has established unique advantages on Market Opportunities, Government Policies, Technologies, Capital Market, Academic, Talents, Media, IPs and alliance to continuously creating cutting-edge Sports technology Ecosystem and comprehensive Services Platform for China and for the World; in addition, to fulfill ABSG's vision of "Unite the World with Sports and Innovation! "

ABSG瑞腾国际体育科技集团创始人兼首席执行官杨瑞慷先生表示:"GamePlanU是全球最好的体育科创中心之一,为体育公司的数字化转型道路提供最优质的解决方案。ABSG瑞腾国际体育科技集团非常高兴能与GamePlanU达成全方位合作,我相信这次合作将对双方以及中国乃至全球的体育科技和创新领域产生重要而深远的影响。"
"GamePlanU is one of the world's best SportsTech Innovation hubs, providing the best solutions to sports entities in their digital transformation journey. The ABSG Group is very glad to reach comprehensive collaboration with the GamePlanU, I believe this collaboration will have an important and far-reaching strong impact on both sides and as well as for the China and global sports technology and innovation industry", said Mr. Mike Yang, Founder and CEO of ABSG.

合作的初步阶段,双方将重点推进以下关键领域:
借助GamePlanU强大关系网络和与全球体育产业领军人物、专业人士、顶级高管以及潜力人才,潜力项目合作的经验,以及ABSG瑞腾国际体育科技集团在中国及全球体育产业的资源和市场机会,双方共同致力于推动体育创新科技在中国与全球市场的融合。
GamePlanU和ABSG瑞腾国际体育科技集团希望共同举办以中国市场为重心的具有产业颠覆性的世界级体育科技盛会,包括初创平台冲刺赛、全球体育系列活动等,并通过积极广泛的参与相互支持。
作为GamePlanU在中国的首个也是唯一的战略合作伙伴,ABSG瑞腾国际体育科技集团将在促成其与国内体育公司的合作方面发挥关键作用,通过整合中国及全球的优势资源,提供优质全面的服务、内容和解决方案。
GamePlanU和ABSG瑞腾国际体育科技集团携手将前者的指导资源引入到中国。GamePlanU一直致力于提供指导课程、试点项目、加速器以及创始者论坛,并创办了线上播客体系。在ABSG瑞腾国际体育科技集团的推动下,GamePlanU可以探索与中国顶尖平台的合作机会,并扩大其培训课程范围。
At the initial stage of this collaboration, the two organizations will focus on the following key areas:
Empowered by the broader network and experience of GamePlanU connecting with the global sports majors, professionals, leading executives and promising talents, projects from startups and ABSG's resources and market opportunities in China and in the global sports industry, both sides are dedicated to promoting the integration of the global and China market in sports innovation and technology.
ABSG and GamePlanU are looking to co-host world-class SPRINT TOURNAMENTS, SPORT WORLD SERIES, and other SPORTSTECH GAME-CHANGING EVENTS with a focus on the China market and to support each other's events via active participation.
As the first and only strategic partner of GamePlanU in China, ABSG will play a critical role in facilitating cooperation between GamePlanU and China Sports companies by providing high-quality and comprehensive service systems, contents, and solution package from both local and global resources.
The GamePlanU and ABSG will be working together to bring the mentoring resources of the GamePlanU programs to China. GamePlanU has been offering mentoring programs, pilot programs & accelerators and founder forums with podcast network. With the facilitation of ABSG, GamePlanU can explore partnership opportunities with top platforms in China and expand its mentoring program offerings.

GamePlanU创始人罗伯·汤普森(Rob Thompson)表示:"能与ABSG合作,我们感到非常激动。这将成为我们发现和开拓中国庞大市场的连接点。"
Rob Thompson, Founder of GamePlanU said that "We are thrilled to partner with ABSG and be a connecting point for our founders to discover and develop the massive Chinese market. "

"世界正随着体育科技的数字化变革而越来越紧密,我们很高兴能与ABSG这样志同道合的团队结盟,ABSG正在为体育创新者和企业家搭建一个平台,以拓宽全球从事体育活动,观看体育和体育消费的方式,这是我们的共同使命。"
"As the world continues to get smaller through the digital revolution of sports technology, we are thrilled to be aligned with like minded groups such as ABSG, who's shared mission is to provide sports innovators and entrepreneurs with a platform to scale how we will Play, Watch and Consume sports around the world".

ABSG瑞腾国际体育科技集团创始人兼首席执行官杨瑞慷先生表示:"我相信与GamePlanU的合作将对体育科技生态系统以及全球体育科技创新产业产生积极的协同影响。"
"I believe ABSG and GamePlanU will leverage the synergies in terms of the Sports tech ecosystem, as well as the global sports technology and innovation industry.", said Founder of ABSG.

ABSG瑞腾国际体育科技集团非常期待与GamePlanU的合作。请继续关注双方即将联合举行的全球活动和项目。
The ABSG is looking forward to working with the GamePlanU. Please stay tuned to upcoming joint-efforts events and initiatives.