【Global SportsTech Investment Series 1】
16/03/2021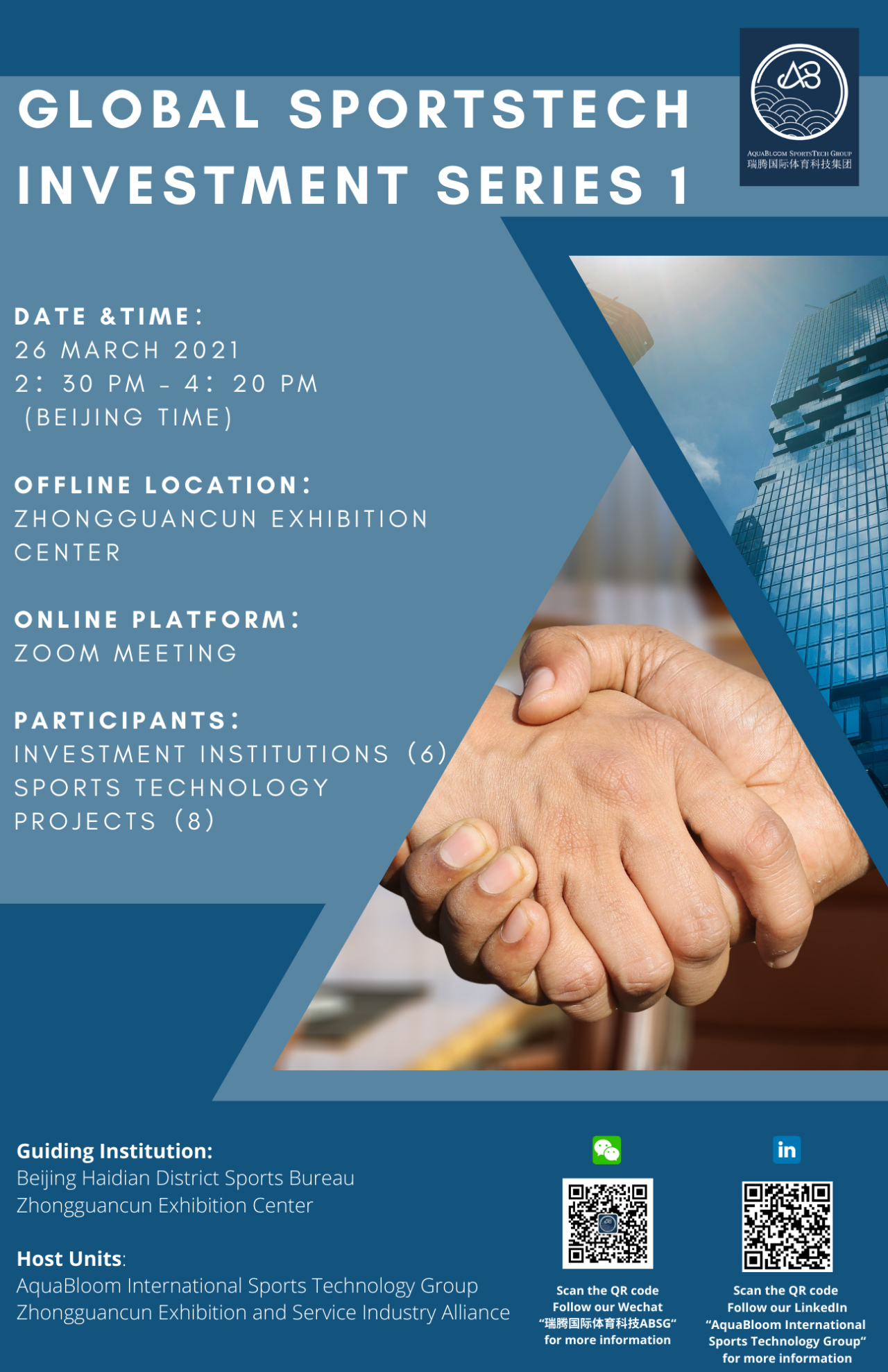 In order to promote the integration of China and the global sports industry and development, accelerate the transformation and upgrading of the sports industry to digital, intelligent, ABSG AquaBloom International Sports Technology Group and Zhongguancun Exhibition and Service Industry Alliance plan to jointly hold the first monthly series of events on Sports Technology Innovation Investmennts in China on March 26, 2021 —— 【Global SportsTech Investment Series 1】.

Date &Time
26 March 2021
2:30 PM – 4:20 PM (Beijing Time)

Offiline Location
Zhongguancun Exhibition Center

Online Platform
ZOOM meeting

Participants
Investment institutions(6)
Sports technology projects(8)

Sessions
Keynote speech by senior experts in international SportsTech innovation
Presentation by SportsTech innovation project, Q&A and comments by investment institutions

Guiding Institution
Beijing Haidian District Sports Bureau
Zhongguancun Exhibition Center

Host Units
ABSG AquaBloom International Sports Technology Group
Zhongguancun Exhibition and Service Industry Alliance

Supporting Units
Tsinghua PBCSF Financial Research Center, Huawei, Forbes Global Alliance, GSIC powered by Microsoft, Wanda Sports, Huamei Holding, ByteDance, Colosseum Sports, GamePlanU, Orange Sports Forum, CFT, Sports Money, KingBrothers, YoyWow, SportsPro

This event focuses on the investment and financing of high-quality sports technology innovation projects. High-quality projects from the key scenarios:Training and Education, Fitness and Health, Media, Entertainment, Marketing, Smart Venues, Smart Events, Smart Tournaments. Fundamental technologies: Artificial Intelligence, 5G、Big Data, VR/AR/XR.

In the following content, we will introduce you to the first batch of 8 high-quality projects and investment institutions selected for 【Global SportsTech Investment Series 1】 event, and international senior SportsTech innovation experts who will give keynote speeches at this event, please stay tuned!

At the same time, we also welcome partners, investment institutions and projects that are interested in global sports technology venture capital activities to participate. You can send your name, contact information, company name, company location, company profile, cooperation direction, etc with Email, send to info@absportgroup.com, we will get in touch with you as soon as possible.