【Global SportsTech Investment Series 1】8 topnotch companies in this event, let's find out!
19/03/2021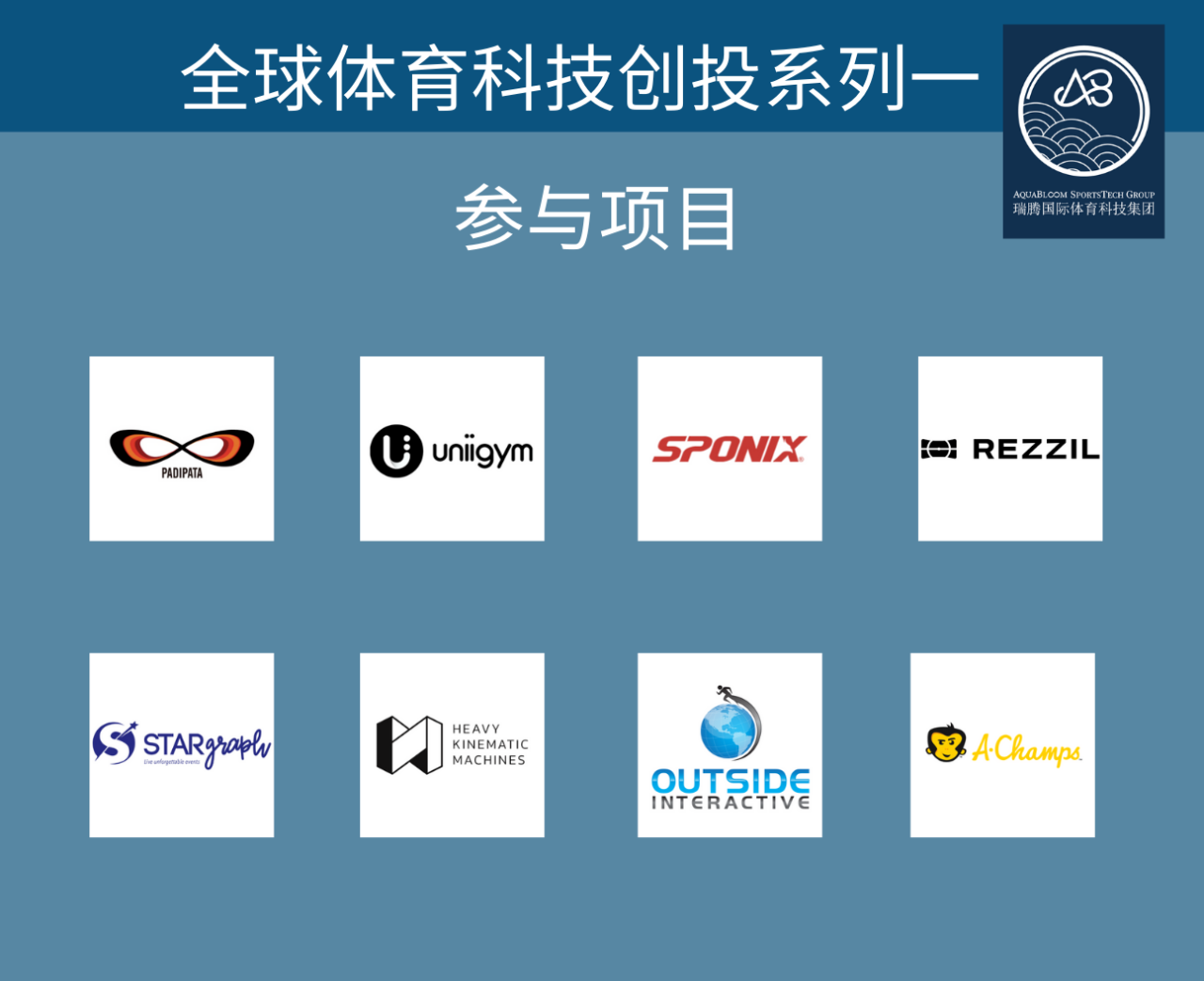 ABSG AquaBloom International Sports Technology Group and Zhongguancun Exhibition and Service Industry Alliance will jointly hold the first monthly series of events on Sports Technology Innovation Investmennts in China on March 26, 2021 —— 【Global SportsTech Investment Series 1】. And today, we would like to bring you the 8 topnotch companies in this event, let's find out!

PADIPATA

Padipata's design is inspired by the Mobius ring and is a brand positioned in the sports and entertainment field. Padipata combines the sense of the future with fashion sports in design, and launches sports products, including Force Dynamic series boxing gloves, Force Reactor series PUNCHING sandbag, Smart Punch-bag series intelligent sandbag, Tech- Interactive series intelligent products, etc. Padipata sports brand, adhering to the brand philosophy of making sports fashionable and interesting, provides sports users with fitness equipment and training methods.

Uniigym

Based on artificial intelligence and cloud computing, Uniigym first develops Internet + sports on campus, which is a national light and shadow curriculum and sports activity system platform with students' health and sports as the core content and campus intelligent fitness center as the entity. The operation mode of Uniigym is currently in the gym on campus in line with the existing environment. Uniigym focuses on the group class exercise room with the most potential for economic benefits, and provides cloud-sharing immersive light and shadow fitness courses. Uniigym cooperates with 5G telecom operators and cable TV system operators. Users can bring Uniigym light and shadow rhythm courses into the living room through mobile phones, computers or set-top boxes.

Sponixtech

SponixTech is a Qatar-based virtual advertising solutions provider that aims to bring a whole new revolution to sporting event advertising.

SponixTech offers a completely software-based advertising solution in live streams of sporting events. Technology is mainly for computer vision and image processing, video stream by a powerful rendering engine in place insert advertisement pictures or video game, the system will automatically capture original principal camera picture, does not need to add any additional hardware devices, and for each frame to track and calibration, while application greatly reduce costs, ensure the high quality of video. The technology completely solves the problem of virtual advertising under the special circumstances of strong light, blur, overlap and so on. Operators can quickly modify engine setting parameters in the face of different events, so as to meet different advertising needs. During the operation of the system, real-time monitoring will be combined with configuration to achieve efficient operation.

Rezzil

Rezzil can offer a range of VR tools to meet the (semi-) professional and diverse football training needs, thus meeting the needs of a variety of customers. Rezzil offers a comprehensive range of VR football tools that enable users to improve, train, benchmark and analyze any player. Rezzil is able to meet the specific needs of different demand sides through a variety of products, including post-match analysis tools, rehabilitation tools, decision-making tools, player testing and benchmarking tools. It is designed to improve real-life field performance. In addition, Rezzil provides an element of entertainment that appeals to a wide audience. Rezzil offers you a unique experience of football training in the near future.

Stargraph

Stargraph is a digital platform that uses sponsorship incentives to attract, engage, and convert "true fans" (non-followers) to grow ROI.

The platform includes the following main functions:

A digital signature
From digital content to star cards
Use augmented reality to activate fans
Fan Relationship Management

SOLO WORKOUT

SOLO WORKOUT is a cloud-based data collection system consisting of sensors paired with fitness equipment and an app. What started as a simple concept of using counters for fitness users and fitness enthusiasts has evolved into technology with huge potential. SOLO WORKOUT can directly meet any need in the marketplace by providing accurate, real-time tracking of workout data for gym owners, members and their trainers. The SOLO WORKOUT solution makes regular fitness equipment smart and at an extremely low cost. The goal of SOLO WORKOUT is to provide an accessible workout experience for all exercisers. SOLO WORKOUT has developed sensors for strength training equipment, cardio and dumbbells. It is now working on products for barbells and will cover more functional training in the future.

OUTSIDE INTERACTIVE

Outside Interactive turns aerobics equipment (starting with a treadmill) into track simulators, allowing people to train on well-known tracks and even "officially" race from their health club or living room. Outside Interactive's technology adjusts first-person course videos to a runner's point of view and automatically adjusts the slope to match the hills in the course.

A-Champ

ROX Pro makes any kind of physical training more effective and fun. ROX Pro is the game-changing tool that can help coaches and trainers to bring their sessions to the next level. ROX Pro adds to any training session:

a complete new dimension (cognitive-motor training)
new motivational elements (competition and focus)
objective Data
unlimited variation possibilities

It is based on multi-sensory stimulation (of the visual, acoustic and tactile senses) through light, sound and vibration.

This event will be held at 2:30 – 4:20 pm on March 26, 2021, Beijing time. In the following content, we will introduce you to the investment institutions for this event and international senior SportsTech innovation experts who will give keynote speeches at this event, please stay tuned!

At the same time, we also welcome partners, investment institutions and projects that are interested in global sports technology venture capital activities to participate. You can send your name, contact information, company name, company location, company profile, cooperation direction, etc with Email, send to info@absportgroup.com, we will get in touch with you as soon as possible.