AquaBloom International Sports Technology Group ("ABSG") landing Global SportsTech Center, Cluster and Ecosystem with Cyberport Hong Kong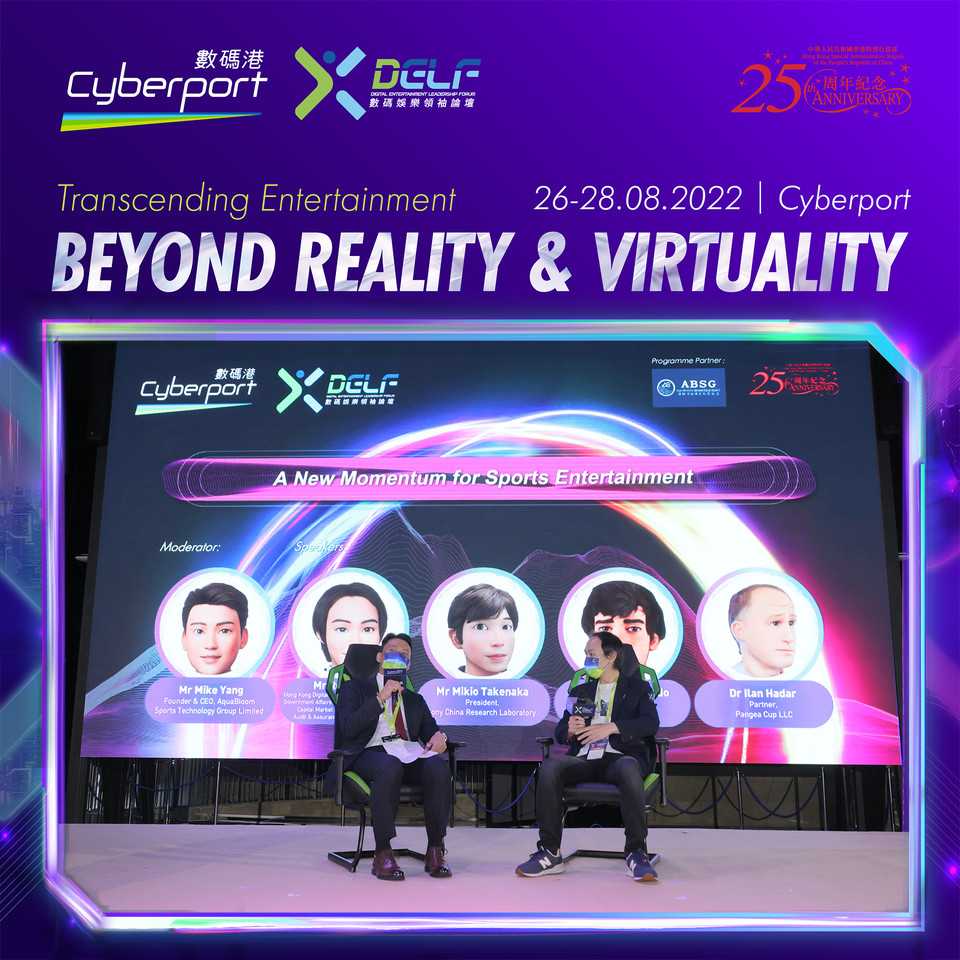 The Digital Entertainment Leadership Forum 2022 (DELF) was successfully held at the Hong Kong Cyberport Hong Kong from August 26 (Friday) to 28 (Sunday); Prof Dong Sun, Secretary for Innovation, Technology and Industry, Government of the Hong Kong SAR, and the chairman of the Cyberport, Mr Simon Chan, BBS, JP, attended the opening ceremony of the forum and served as the officiating guests.

ABSG has been invited as the core partner of DELF in the field of global sports technology for consecutive years. In this year's grand event, we cooperated to present the global sports technology high-end forum, sports technology product display and experience, and the global pitching contest.

In addition, ABSG officially announced the landing and cooperation of several anchor international sports technology projects; At the same time, ABSG and Hong Kong Cyberport officially completed the signing, the two sides will carry out multi-level and all-round in-depth cooperation on Global SportsTech Center, Cluster and Ecosystem in Hong Kong.

1.Signing ceremony | ABSG and Hong Kong Cyberport on Global SportsTech Center, Cluster, Ecosystem (CCE)
- Mr Mike Yang, Founder & CEO of ABSG
- Peter YAN King-shun, CEO of Hong Kong Cyberport

2.Announcing Ceremony | ABSG Phase One Anchor Projects
1) Global SportsTech Alliance:
- HTX Sports Tech, Nate Thompson
- UCAM, Paul Chan Wei Ti
- ZhongGuanChun Industrial Research Institute, Mr Yang Yang
- Zhongguancun Exhibition and Service Industry Alliance, Miss Gao Yanhui
- Shanghai Pudong Financial Bureau, Mr Gu Jianhua
2) SportsTech UN:
- Orange Sports Forum, Rick Sleegers
- Takumi Innovators, Toshi Tanaka
- Rumble Venture, Mlondi Mashinini
3) Inno4Health:
- Orange Sports Forum & Inno4Health, Rick Sleegers
4) China Tennis, Miss Chen Shiyi
5) SGLA (Chengdu) Law Firm, Mr Xiao Li
6) China Sporting Goods Federation, Mr Wangyuan, Mr Horry Wang

3.SportsTech Panel | A New Momentum in Sports Entertainment
- Mr Mike Yang, Founder and CEO, ABSG
- Mr Robert Lui, Hong Kong Digital Asset Leader; Southern Region Government Affairs Unit Leader; Southern Region Capital Market Services Group Leader; Audit & Assurance Partner, Deloitte China
- Mr Mikio Takenaka, President of Sony China Research Laboratory
- Mr David Hernando, Head of Strategy, SportBoost
- Dr Ilan Hadar, Partner, Pangea Cup LLC

Thank you again for your presence and support. We look forward to working together to promote the development of sports technology.