AquaBloom Sports Group (ABSG) exclusive partnership with Top US student athlete recruiting service National Scouting Report (NSR)
30/08/2019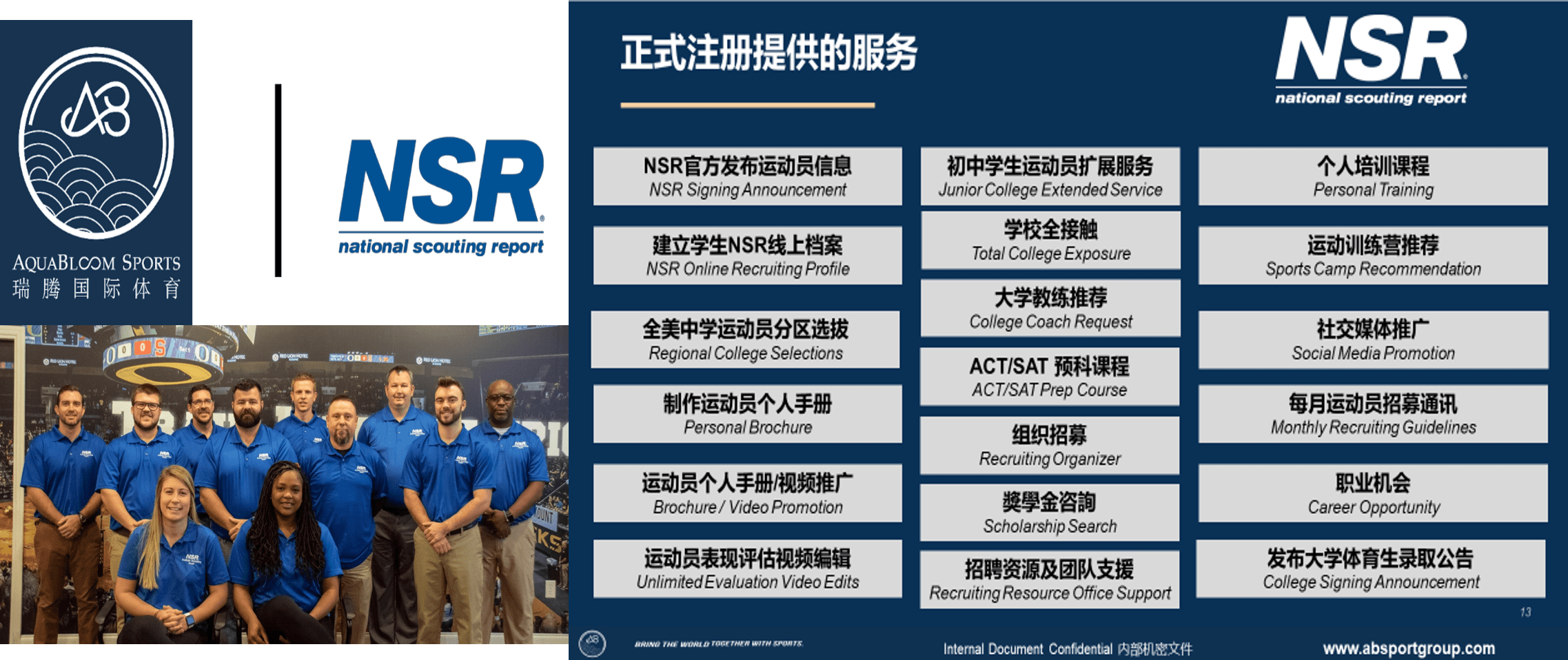 Following the trend of China's speedy development in economy and sports industry over the years, the demand of high standard of living and education equally increases. Wealthy parents tend to focus more on studying aboard programs and strive to provide the best learning environment for their children. In addition, if the youngster show extra potential in sports this talent can be utilized as a strong bargaining chip for getting into famous and favored Top university amongst the world.

AquaBloom Sports Group (ABSG) collaborated with National Scout Report (NSR) to promote young athlete from China and Asia to join the overseas universities scholarship programs and maximizes their chances of getting into favored university and retain sport scholarship. NSR hired the absolute best scouts stemming from backgrounds in coaching, professional players, and top talent in the sporting industry to manage the recruiting process, which will provide students in China with the most professional and efficient access to the world's elite universities in US.

Since 1980, NSR has been committed to guide student athletes finding the most suitable university sport program for their future development. Not only does NSR assists university coaches in finding talented athletes who is compatible with their standards and abilities but alternatively, NSR also help athletes get scholarships so that each athlete can give full play to their sports and academic. NSR's mission begins with high standards, ends with accountability, their College Recruitment Specialist will assess the athletic and academic ability of each potential student, they are admitted to ensure that athletes have the advantages, qualities, abilities and fair opportunity to move to the next stage.

1. NSR SIGNING ANNOUNCEMENT - NSR will send an announcement notifying selected colleges that the prospect is now working with NSR. This announcement will include a scouting report detailing the prospect's abilities and a link to the prospect's online recruiting profile.
2. NSR ONLINE RECRUITING PROFILE - The prospect's personal profile and other scouting information will be maintained on the NSR website. Every college coach and ad- missions officer in America has free access to the NSR files, at all times. The prospect's recruiting profile will contain personal and academic information, athletic evaluations and statistics, newspaper articles, awards, competition or game reports, family information, photos, video, and a personal message. At any time, the prospect may make updates through their Personal Portal.
3. REGIONAL COLLEGE SELECTIONS - Twice each year, based on personal criteria furnished by the prospect, NSR will search out all colleges meeting the prospect's qualifications and goals. Area of the country, size of the school, level of athletic competition and other factors may be used to determine the colleges to be searched. NSR will send the prospect's complete data file including video to the matching coaches.
4. PERSONAL BROCHURE - NSR professional staff members will design a brochure which will contain complete information about the prospect. This may include personal references, honors and achievements, academic and athletic statistics, a personal essay or message written by the prospect, and photos of the prospect.
5. BROCHURE PROMOTION - Twice each year the prospect may select 50 colleges for a special mailing of their personal brochure. Printed in full-color on top-quality printing stock, NSR will send to the college coaching staffs an individual mailing on the prospect, including his or her personal brochure, a letter of recommendation and other information pertinent to the promotion of the prospect.
6. UNLIMITED EVALUATION VIDEO EDITS - Using footage from videos furnished by the prospect, NSR will edit and produce a top-quality master evaluation video demonstrating the prospect's abilities. The video may include a personal message, interviews with coaches, skills demonstrations, camp, combine or showcase drills, strength and conditioning workouts, game footage, graphics and background music to enhance the video.
7. VIDEO PROMOTION - NSR will digitize the prospect's video and place it on a high- speed server. Each year, NSR will contact 100 colleges of the prospect's choice stating the prospect's particular interest in the college and include an email written by the prospect and a direct link to access the prospect's video.
8. TOTAL COLLEGE EXPOSURE - Each month NSR will contact all of the college coach- es, in every division, in the prospect's sport. NSR will give coaches access to the prospect's complete data file, including all contents of the personal website. NSR maintains an un- published e-mail address file of over 25,000 head coaches and assistant coaches.
9. COLLEGE COACH REQUEST SERVICE - College coaches from around America regularly contact NSR requesting recommendations and referrals on prospects meeting specific criteria. If the prospect meets the criteria requested, an updated profile, complete data file and a direct link to the prospect's video will be sent to each college requesting the information.
10. ACT/SAT PREP COURSE - Upon signing this contract NSR will provide an opportunity for the athlete to enroll in one uScore Bronze Level ACT or SAT prep course through uScore Test Prep as a one-time service. The uScore program will begin at the time the NSR athlete registers with uScore. When the athlete completes the uScore Bronze Level ACT or SAT prep course, the course will no longer be available. NSR athletes can choose to enroll in additional uScore programs at their discretion at uscoretestprep.com.
11. RECRUITING ORGANIZER - NSR will provide the prospect with a Recruiting Organizer to assist in keeping track of contacts, communications and visits with college coach- es. Any NSR athlete meeting the requirements of a college coach request will be auto- populated into that prospect's Recruiting Organizer.
12. SCHOLARSHIP SEARCH - NSR has researched and found several comprehensive websites that offer a simple and thorough way to search for non-athletic scholarship/grant money. These websites will be provided to you, and our staff will be available to help with any assistance you may need in applying for these scholarships/grants.
13. SPORTS CAMP RECOMMENDATION - If the prospect plans to attend any sport camp sanctioned by the NCAA, NSR will notify the camp director about the prospect's credentials and ability. Prior to the start of camp, NSR will send the director a letter of recommendation and provide a link to the prospect's personal video on NSR's high-speed server. The purpose of this is to ensure the prospect gets special attention at the camp.
14. SOCIAL MEDIA PROMOTIONS - When National Scouting Report deems fit and the information is provided by the prospect, NSR will have the choice to post information of the prospect to the company's social media sites and website.
15. MONTHLY RECRUITING GUIDELINES - Each month NSR will send the prospect a copy of a newsletter which will provide the prospect with NCAA, NAIA and NJCAA recruiting news, significant recruiting dates, and helpful tips on how to maximize the prospect's NSR program.
16. RECRUITING RESOURCE OFFICE - NSR will provide the prospect with home office support throughout his or her high school career through a Service Plus Info Center. If the prospect cannot reach his or her scout, or if the prospect requires additional assistance which only the home office staff can provide, the prospect may contact NSR via our toll-free number, (800) 354-0072, or via email, nsrbham@nsr-inc.com. NSR is dedicated to providing excellent service to our prospects and encourages them to access this expertise at anytime.
17. JUNIOR COLLEGE EXTENDED SERVICE - All NSR services are extended through junior college and prep school, providing the prospect continues playing the sport competitively, and upon notifying NSR via email of entrance to these levels of education.
18. CAREER OPPORTUNITY - Upon the prospect's completion of play and graduation from a 4 years program, you will have guaranteed employment opportunities with NSR. NSR would be proud to have former NSR prospects working as scouts or personal recruiting coordinators. Your experience with NSR, the recruiting process, and your college playing experience could help guide young athletes in the future.
19. COLLEGE SIGNING ANNOUNCEMENT - NSR will send an announcement via social media when prospect is ready to announce their commitment to a school.

All services will be offered during the subject's academic year within college/university. NSR will not charge an additional fee or registration fee, regardless of the number of years of scholarship or resource support involved in the contract.
NSR has the highest quality student sports talent recruiting specialists in the country, they were either experienced professional players, or directly referred by relevant sports organizations or channels. NSR's student clients and their enrollment rate have more than doubled in the past three years, with approximately 6,000 student athletes serving each year. More than 90% of potential athletes served by NSR received acceptance notices.
This service launched by ABSG will maximize the success rate of Chinese student athletes entering the overseas university in favored by the student themselves and obtaining sports scholarships.

AquaBloom Sports Group (ABSG) sincerely appreciates the exclusive authorization and support of NSR. We hope that through the launch of this service, China will continue to develop a cultivate comprehensive and multinational young talents in the future of the sporting industry.