FootballCan2041 by Santander & ABSG's partner GSIC is open!
30/03/2021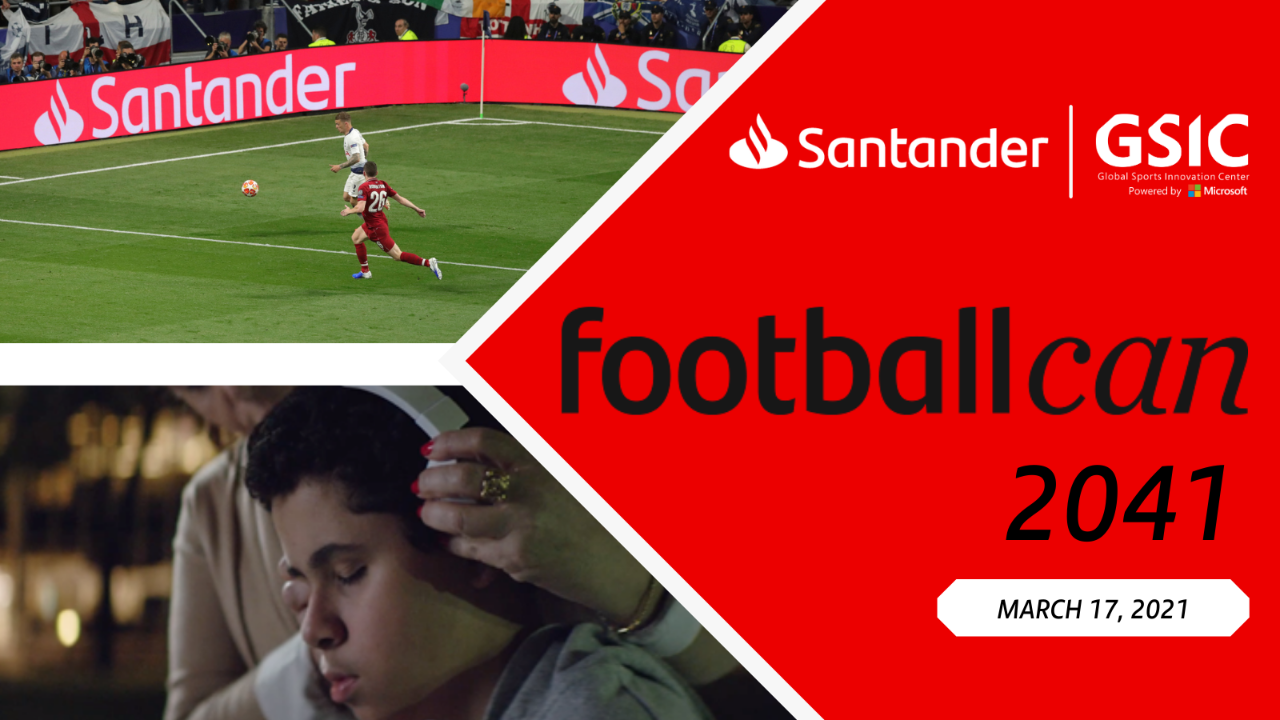 FootballCan2041 challenge by Grupo Santander and ABSG's global partner GSIC powered by Microsoft is already open !


FootballCan is the philosophy of Santander and is what motivates Santander to sponsor the world's leading football challenges. To believe in FootballCan means believing in the power of football to inspire Santander and constantly make Santander better. For Santander, football is progress. Because it has the capacity to transform peoples' lives and society, achieving the impossible and altering the course of reality to allow even blind people to feel a football match the way they'd always dreamed.

In pursuit of this goal, Santander created Fieeld: a device that allows all blind people to feel football for the first time like they've never felt it before, by following the movements of the ball and its trajectory during a pre-loaded section of play using their fingertips.

FootballCan 2041 challenge aims to bring digital transformation to football by finding initiatives that are valued by the industry and society, making tangible its role in football.This Challenge aims to identify the most promising technological solutions that:

Promote initiatives that ensure more accessible, inclusive, and environmentally friendly events for football fans.
Develop new experiences in football events and improve the fan experience to have a positive social impact.
Extend Fieeld's scope and improve its capabilities.

Participants can leverage technologies such as Artificial Intelligence, Machine Learning, Blockchain, Augmented & Virtual Reality or Internet of Things to present initiatives, experiences and/or technological solutions that have a real and tangible impact by improving people's and society's lives, considering the following areas:

Inclusion: solutions to improve the experience of vulnerable groups at risk of social, economic, or cultural exclusion, and educational solutions linked to football.
Diversity: solutions that promote equality in football, regardless of race, color, gender, sexual orientation, religion, or nationality.
Sustainability: solutions to help professional football be more responsible with climate change and a sustainable management of energy and resources.

The Challenge is open to any legal entity or natural person from any part of the world who can contribute with their technological innovation to the aims above mentioned and meeting the following requirements:

1. Requirements for legal entities: companies/startups who can contribute with their technological innovation to the aims above mentioned and meeting the following requirements:
Be a company – at least – in Series A stage (company's first significant round of venture capital financing)
Have a dedicated full-time team of at least 2 individuals.
Have at least a minimum viable product (MVP)

2. Requirements for natural persons: entrepreneurs with ideas/concepts that can help solve any of the challenges above mentioned and meeting the following requirement:
Be over 18 years old.

Participants may:
only apply in this call by submitting a single project.
not be an employee, manager, partner, or maintain a business relationship with Santander or GSIC at the time of application.
not have been convicted of a felony conviction for any offense.


ABSG fully supports this event as a GSIC global partner

And also, Mr. Mike Yang, the Founder & CEO of ABSG has been invited as one of the Evaluators of the 30 shortlisted. As a partner, ABSG also hopes that through this event, it can jointly contribute to the progress of technological innovation in the football field and the integration of global sports technology innovation resources.