Global SportsTech Investment Series 1 has been successfully held
29/03/2021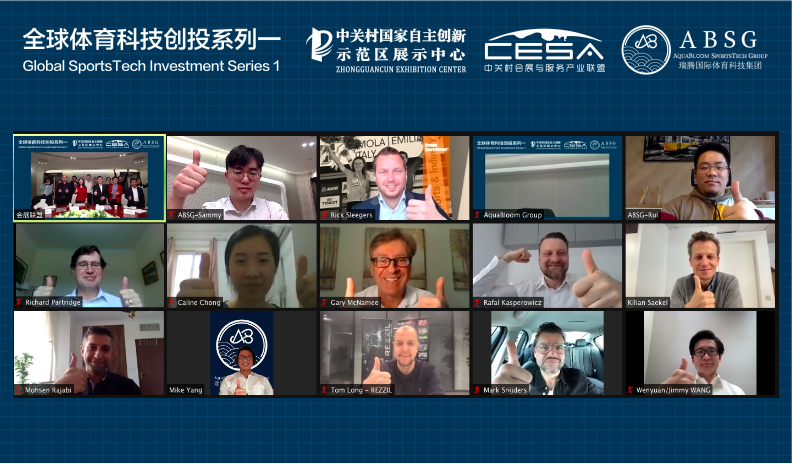 AquaBloom International Sports Technology Group ( ABSG) and Zhongguancun Exhibition and Service Industry Alliance has jointly held the first monthly series of events on Sports Technology Innovation Investments in China successfully —— 【Global SportsTech Investment Series 1】on March 26, 2021.

At the beginning of the event, Head of Zhongguancun Exhibition Center Mr. Liang Aimin, Deputy Chief of Beijing Haidian Sports Bureau, Miss Luo Fei, General Secretary of Zhongguancun Exhibition and Service Industry Alliance, Miss Gao Yanhui, ABSG Founder&CEO Mr. Mike Yang gave an opening speech for this event.

"Although we know the growth trend for China's Sports Industry will be humongous in the next 5, 10 years and beyond; however, at the same time we also recognize the challenges that need to be conquered in China's Market; including but not limited to A. Inadequate High-end Talents for such massive market, B. Strong bridging of Financial Industry and Capital Market to the world of Sports, C. Globalization and Localization, D. Sports Consumption and Sports Lifestyle building, E. DeepTech's R&D and applications to extensive Sports scenarios and occasions. With that been said, we are faithful and confident the innovation ecosystem that we are working on day to day with many topnotch partners will address these issues and make positive contributions for the long-run. Today's event is a good example of what we can achieve together!" said Founder&CEO at ABSG, Mr Mike Yang on the opening speech for this event.

Subsequently, Mr. Rick Sleegers represent OSF to shared insights of the global sports innovation market, the opportunities for sports technology market in China, and the cooperation opportunities between China and the Netherlands in sports industry, how does Dutch sports innovation develop and grow with government support and the strategic cooperation between Orange Sports Forum and ABSG will bring opportunities and advantages to Chinese and Dutch sports technology innovation companies.


8 outstanding sports technology and innovation projects participated this event to look for investment to boost their businss:

1. Uniigym (Taiwan, China)
AI and cloud based body-sensing technology fitness solution provider

2. Outside Interactive (USA)
Make indoor running exercise more fun, realistic and effective by simulating well-known road running race tracks

3. Rezzil (UK)
Top VR football training and experience system recognized by Liverpool, Manchester United, AC Milan and other leading clubs

4. Sponix Tech (Qatar)
Digital virtual advertising solution for live sports events without hardware installation

5. Padipata (China)
Intelligent fitness solutions provider with intelligent sandbag, intelligent interactive rope machine and other intelligent fitness equipment as the core products

6. Stargraph (Italy)
Blockchain and AR as the core technology to enhance football fans' engagement, asset digitization and monetization

7. Solo Workout (Poland)
SOLO allows gym owners to modernise their facility without the need to replace existing equipment

8. A-Champs (Spain)
Smart, portable and customized mobile ability training equipment that simultaneously improves the body and brain

Leading and experienced sports industry investment institutions from China and abroad, including China Sports Industry Group, Beijing Venture Capital, HuangPu River Capital, Scrum Ventures, Dutch Sport Tech Fund and Flatfish Fund College, participated in this event.

We also would like to give special thanks to distinguished guests from Sports Finance Research Center PBC School of Finance at Tsinghua University, HR Capital MGMT, Oxford University Innovation Limited, Ernst & Young Global Sports Affairs, Nanjing Sports Industry Group, Sports Money, Lanxiong Sports, New Idea Co. Ltd, Welian and sports industry experts from Canada, France and China Hongkong.

All parties of this event showed great interest in the content shared by enterprises. The atmosphere at the event was warm and a consensus was reached on the cooperation intentions of multiple parties.

After the event, the leaders and guests from all parties expressed their great recognition of this event. On this basis, ABSG will continue to promote the integration of China and the global sports industry and development, accelerate the transformation and upgrading of the sports industry to digital, intelligent.