The Story of Rusty Rigney and NSR with ABSG
09/03/2020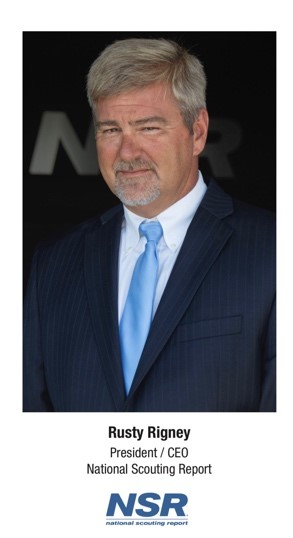 Rusty Rigney has been the President of National Scouting Report since 2002. His father, Bob Rigney, started NSR 40 years ago and retired in 2002. At that time, Rusty moved from working within NSR to becoming president of the world-wide college athletic recruiting company based in Birmingham, Alabama in the United States. Bob Rigney started 40 years ago by helping his sons Curtis and Rusty find opportunities to play sports and study at US colleges. Mr. Rigney was able to help Curtis find a school to play football and Rusty played college baseball. From that family operation, the NSR story began and now they represent thousands of athletes from across the world in all sports that are played in the US college system. As part of this commitment to international athletes, Rusty Rigney has presented at the 2018 Forbes Innovation Summit in Chengdu, China.

Rusty has made a major focus of his tenure as NSR President the use of technology to increase the visibility of NSR athletes. This has enabled them to be scouted by larger numbers of college coaches. Under Rusty Rigney's direction, NSR has grown in the number of athletes sent to study and play at US colleges and universities every year. This has happened because NSR has brought on more NSR scouts to communicate with the college coaches and a larger headquarters staff to develop the Athlete Profiles that go to college coaches on each athlete and to assist the NSR athletes in managing their personal recruiting process.

Since 1980, NSR has been committed to guide student athletes finding the most suitable university sport program for their future development. Not only does NSR assists university coaches in finding talented athletes who is compatible with their standards and abilities but alternatively, NSR also help athletes get scholarships so that each athlete can give full play to their sports and academic.

In August 2019, AquaBloom Sports Group (ABSG) collaborated with National Scout Report (NSR) to promote young athlete from China and Asia to join the overseas universities scholarship programs and maximizes their chances of getting into favored university and retain sport scholarship. NSR hired the absolute best scouts stemming from backgrounds in coaching, professional players, and top talent in the sporting industry to manage the recruiting process, which will provide students in China with the most professional and efficient access to the world's elite universities in US.